Dagestan State Medical University,Makhachkala City.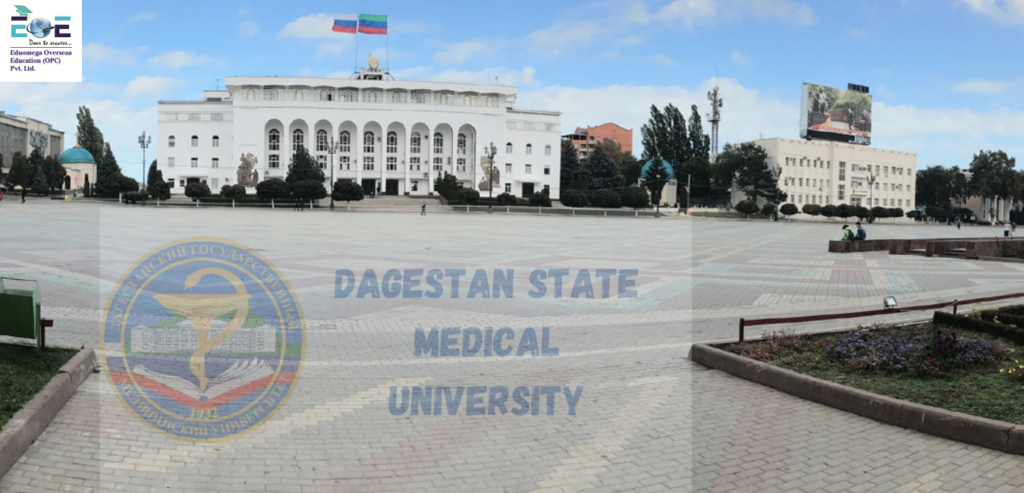 About University
Dagestan State Medical University or DSMU was formed in 1932. It is a major educational,scientific and medical centre in Russia. DSMU has its own unique history,decades- long traditions.It is almost 90 years old university.All of this gives the DSMU right to be proud of its success and achievements. DSMU rightfully takes the place of being one of the best Medical Universities in Russia.
Dagestan State Medical University has a staff of 736 doctors and professors. Currently, there are 5200 students studying in Dagestan State Medical University. Students are offered to get education both in undergraduate and postgraduate courses.During past 83 years more than 27, 000 thousand of successful doctors have graduated from DSMU,including 2 000 foreign students from different countries. Specialists, who have graduated from Dagestan State Medical University, have always been known for their strong educational background, obtained at this higher educational institution.The educational system of Dagestan State Medical University has been developed to the needs of the international and national students who wish to obtain Medical Doctor's degree in English. The Higher Education Program of MBBS meets the State Health Care requirements and on the other hand, is based on the international standards of the medical education. The integrated approach to the teaching/ learning process comprises integrated theoretical and practical assignments.
Dagestan State Medical University provides students with a world class education in and environment full of new opportunities and ideas which will help to shape your future.
FACULTIES:
Internal Medicine.
Preventive Medicine
Pediatrics
Dentistry
Pharmacy
Post – Graduate
Preparatory Department.
From the 2nd study year in DSMU students have the opportunity to join practical classes conducted by practicing doctors in a number of hospitals.The students undergo practical training in the following hospitals:
Regional City Hospital.
Republican Clinical Hospital.
Private Clinic "CityLab"
Eye treatment Hospital and many more.
The University is accredited by MCI/WHO/Russian Education Ministry/The World Federation of International Education/UNESCO/Graduates Of Foreign Medical Institutions/FAIMER/ International Directory Of Universities And Study Abroad .
Ranking : DSMU is ranked 336 in Russia and 8183 around the world.The ranking and the number of years makes the university a hot destination for International students.
Benefits Of Studying In DSMU
DSMU is almost 90 years old and one of the best in Russia.
High quality education with qualified Doctors and Professors.
DSMU degree is accepted world wide even in USA and England.
No donation university.
Introduction of Evidence based Medical programme on all levels.
MCI/WHO and even UNESCO approved University.
A must participation in active research under Russian leading Doctors and Scientists. 
No IELTS and TOEFL required.
Duration of Course is 6 years with 1 year of internship.
Guarantee of getting necessary clinical experience.
University has tie-ups with many Hospitals in the area. So that students can also start working immediately after their Medical degree.
Amazing hostel and sports facility available.
You can pursue your master (PG)degree from the university.
Approx Fees Structure Of DSMU
Dagestan State Medical University.
Tuition Fees/Year
Hostel Fees/Year
Fees in USD (Approx)
1st Year = 5500 USD

2nd - 6th year = 4500 USD
500 USD + Food
Fees in INR (Approx)
1st Year = 4.45 Lac INR (Approx)

2nd - 6th Year = 3.64 Lac INR

[1 USD = 81 INR]
40,500 INR + Food
One time fees (at the time of admission)
3000 USD (Approx)
Misc Charges
2 lac INR
NOTE : We would like to inform you that fees in INR may differ because the USD exchange rate changes everyday. AND Secondly there some extra charges known as Miscellaneous charges (Misc Charges).They are same as processing fees. We do not hide any thing from the parents or the students.These charges are not our commision or company development charges.These charges are for Student's documentation and Visa process.
MISC CHARGES : INVITATION LETTER,ADMISSION LETTER,APOSTLE,DOCUMENTATION TRANSLATION,INVITATION FROM MINISTRY,ACCOMMODATION LETTER,TRAVEL INSURANCE,MFA REGISTRATION,MHRD REGISTRATION,MCI/USMLE COACHING,AIRPORT PICK UP(MOST PLACES),CARE TAKING,TRAVEL ASSISTANCE,FOREX ASSISTANCE,FINANCE ASSISTANCE,MINISTRY APPROVAL FROM THE COUNTRY YOU ARE GOING,PRE-DEPARTURE ASSISTANCE.
Misc charge includes everything from providing you offer/Admission letter till dropping you at the hostel.
Students Life and Hostel Life in DSMU 
Students are offered comfortable rooms in Students hostels.There are different types rooms for students.Generally 2 or 3 students can share the room.Male and female students live separately.Bathrooms and kitchens are give to the students on sharing basis for 2 rooms.The Students hostel have all the necessities,are well furnished,protected with full security.The hostels are walking distance from the University.
Sports facilities are also excellent.You have a basket ball court,a Football ground,volleyball and even adventure sports are also available.