BAU [International University of Batumi]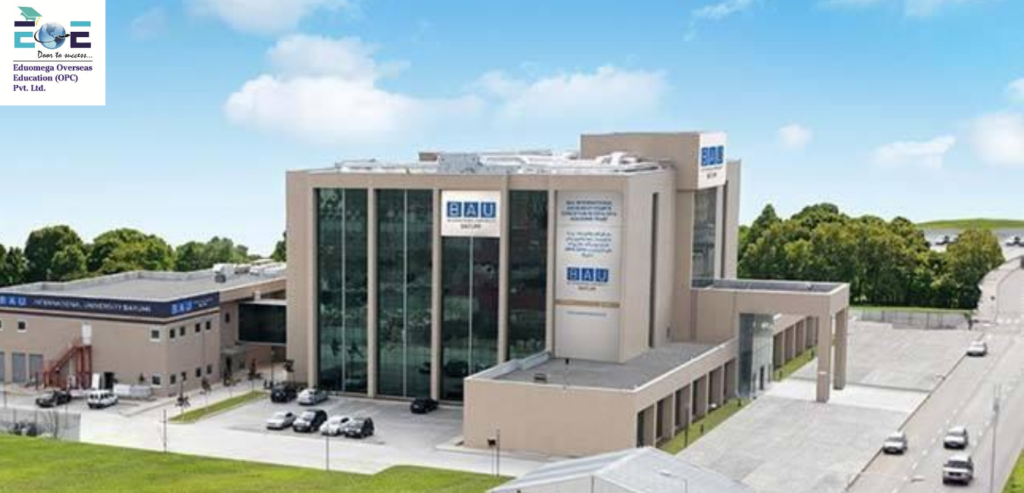 About University
BAU International University is a new premier university in Georgia offering high  quality medical educations to students of all countries around the world.The University is located in one of the most beautiful cities in Georgia, Batumi which is a popular tourist destination on the coast of the Black Sea. While living and learning in Batumi students can also benefit from affordable prices that creates even more attractive environment for students.
BAU International University,Batumi is a member of BAU Global Network which is comprised of 8 Universities, 16 Liaison offices and 4 Language schools spread in 9 countries over 4 continents. Just imagine the contribution of BAU group in educational sector around the world.This is the main reason BAU is now counted in one of the best universities in Georgia and its ranking is also increasing every year.
BAU is providing the best education and medical facilities to many medical aspirants all around the world.American model educational program corresponds to international standards, lasts for six years and is conducted in the English language. During studies the students will also take Free USMLE (United States Medical Licensing Examination) course. BAU International University Batumi has been enlisted in the World Health Organisation (WHO) and world directory of medical schools from the very first year of establishment.The University is affiliated by MCI/WHO/WFME and education ministry of Georgia.
BAU welcomes those students who are Willingness to interact with people, help them and feel that you can change someone's life towards better, bring happiness not to a single but numbers of people by saving someone's life and health- means you are born as a doctor.The number of Indian students are increasingly very rapidly as this is the only university which provides Clinical experience from very 1st year of Medical education.
Ranking – BAU is ranked 42nd in Georgia and 21,938 around the world in only a few years of time. 
Benefits of studying in BAU
Increased its ranking in only a few years.Think about the development of the university in a few years.
Internationally accredited medical programme.
Good quality of education with experienced professors.
Whole MBBS course in English.
Clinical experience from the very 1st year.
One of the best infrastructure and up-to-date facilities in Georgia.
One of the richest library in Georgia.
Very affordable fees for Indian students.
Accredited by MCI/WHO/WFME and listed in World Directory of Medical schools with Canada Sponsorship.
BAU has its own hospital,so that student can start working as soon as he/she finishes their Medical programme.
Free USMLE preparation. 
The only medical college with Cadaver dissection in Anatomy in Georgia.
Students with different culture and traditions from various parts of the world.
Our students can do their PG from Turkey by giving the TUS (Turkey Medical Specialty Examination).
Approx Fees Structure Of BAU
BAU (International University of Batumi]
Tuition Fees/Year
Hostel Fees/Year
Fees in USD
6500 USD
3000 USD
Fees in INR (Approx)
4.87 Lac INR (Approx)
[1 USD = 74.90 INR]
2.25 Lac INR (With food)
One time fees (at the time of admission)
1500 USD (Approx)
Misc Charges
2 Lac INR
NOTE : We would like to inform you that fees in INR may differ because the USD exchange rate changes everyday. AND Secondly there some extra charges known as Miscellaneous charges (Misc Charges).They are same as processing fees. We do not hide any thing from the parents or the students.These charges are not our commision or company development charges.These charges are for Student's documentation and Visa process.
MISC CHARGES : INVITATION LETTER,ADMISSION LETTER,APOSTLE,DOCUMENTATION TRANSLATION,INVITATION FROM MINISTRY,ACCOMMODATION LETTER,TRAVEL INSURANCE,MFA REGISTRATION,MHRD REGISTRATION,MCI/USMLE COACHING,AIRPORT PICK UP(MOST PLACES),CARE TAKING,TRAVEL ASSISTANCE,FOREX ASSISTANCE,FINANCE ASSISTANCE,MINISTRY APPROVAL FROM THE COUNTRY YOU ARE GOING,PRE-DEPARTURE ASSISTANCE.
Misc charge includes everything from providing you offer/Admission letter till dropping you at the hostel.
Labs and Infrastructure of BAU
Approx Living Cost in Batumi