AVICENNA INTERNATIONAL MEDICAL UNIVERSITY (AIMU) , Bishkek, KYRGYZSTAN.
About University
The path towards becoming a Doctor is long and challenging but one that sees no shortage of takers. It is selfless calling, dedicated to the service of others and yet, is one of the most personally fulfilling career options to embark on. 
Avicenna International Medical University (AIMU) is registered with the ministry of justice, Ministry of education and Ministry of Health of Kyrgyz Republic. Kyrgyz Republic bearing License in higher professional education.The higher institution is meant for training qualified specialists in medical sphere both for Kyrgyz Republic and the other countries around the world including India,Bangladesh, Nepal, Nigeria, America, Turkey and Egypt, more that 1100 students are studying from these countries recognised by AMC, WFME, PMDC, CMC, NMC, KOREA. 
Our Medical faculty is enriched with highly qualified, experienced and dedicated teachers with academic, clinical and research expertise.This college has been established with a view to providing quality education and research opportunities to teachers as well as students.Being an institution equipped with enough facilities and intended to be the best one of its kind, AIMU aims excellence, integrity, transparency and accountability.
The number and equipment of teaching facilities (lecture halls,teaching Labs and practicums)has increased substantially since the school gained its independence and the second phase of construction of the school of medicine and the building for clinical and dental classes of Dental Medicine improved. The AIMU has 7 IT classrooms with modern equipment. All class rooms are equipped with computers for students and for a teacher  as well as LCD projector.Recently equipped mobile class room is purchased above all for the purpose of Post graduation.It is equipped with 22 laptops with build – in wireless connectivity.The IT classroom in library with many computers is available for students from 8 to 21,which means outside their classes.Seminar rooms are equipped with multimedia equipment (computer and LCD projector that can also be connected to teachers laptops). The teaching staff underwent training to learn how to use multimedia. 
International Recognised and affiliation – NMC (MCI), WHO, AMC, WFME, USMLE, MCC, FAIMER, ECFMG, GMC.
Ranking – Avicenna International Medical (AIMU) University is ranked 26 in Kyrgyzstan and 12,291 in the world .
Classrooms,Labs & Students in AIMU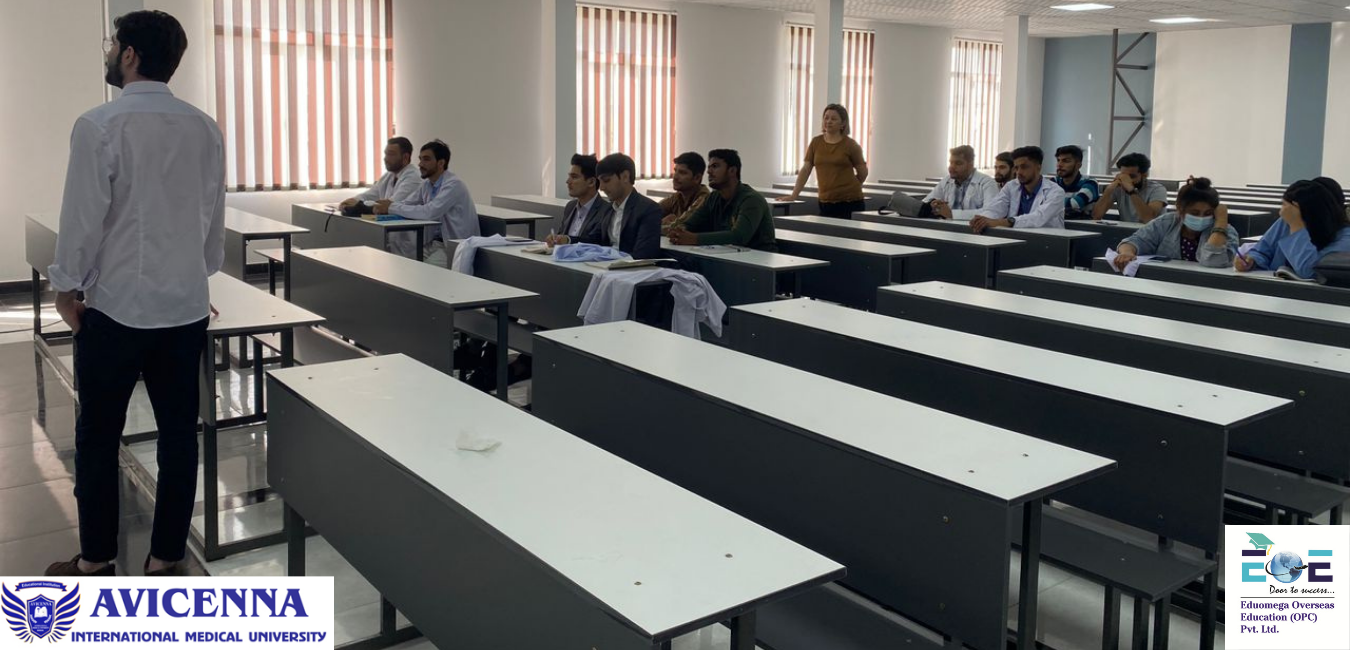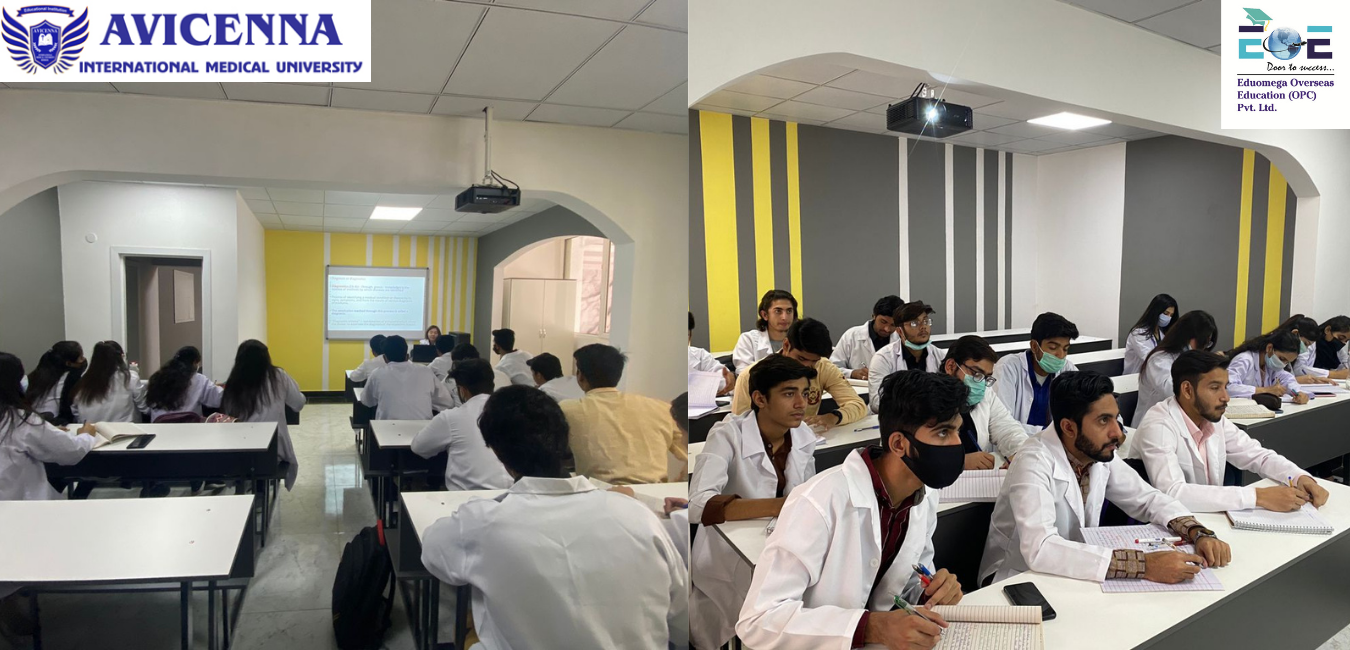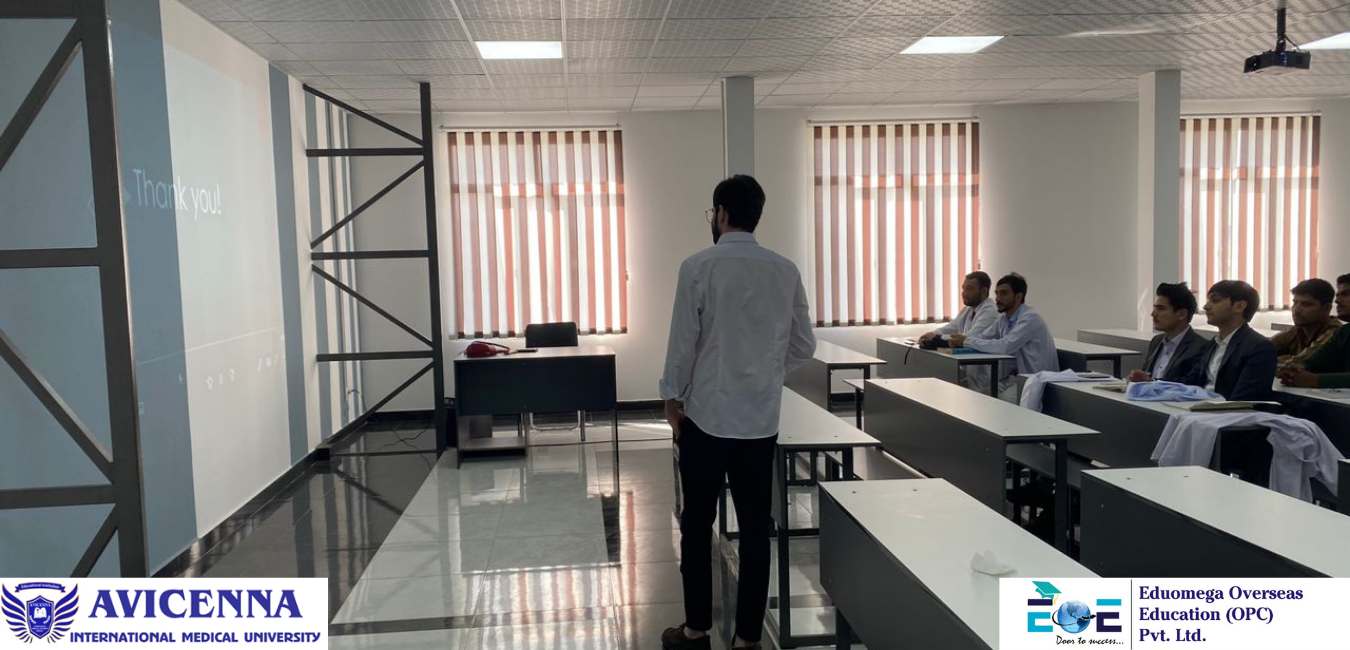 Benefits Of Studying In AIMU
AIMU is Internationally recognised by NMC (MCI), WHO, AMC, WFME, USMLE, MCC, FAIMER, ECFMG, GMC.
AIMU degree is recognised all over the world.
NEXT (MCI) coaching available in campus.
Mode of Instruction is English in this University.
No Donation University.
6 years MD physician (MBBS) program.
Indian faculty in Regular classes.
Separate well managed boys and girls hostel.
Most of the content here is online means E-books. 
You will get a Samsung tab for E- learning programme.
Indian food available for all Indian Students. Veg or Non – Veg.
Indian care taker in the campus.
Excellent academic team with best medical education.
Approx Fees Structure Of AIMU
Avicenna International Medical University
Tuition Fees/Year
Hostel Fees/Year
Fees in USD (Approx)
1st Year = 5100 USD
2nd & 5th year = 4100 USD

[Medical Assistance included =100 USD]


Hostel + Mess =
2000 USD / Year
Fees in INR (Approx)
1st Year = 3.82 Lac INR
2nd & 5th year = 3.08 Lac INR

[1 USD = 75 INR]
Hostel + Mess =
1.5 Lac / Year
One time fees (at the time of admission)
1000 [Already included in 1st year Fees] USD (Approx)

MISC Charges
2 Lac INR
NOTE : We would like to inform you that fees in INR may differ because the USD exchange rate changes everyday. AND Secondly there some extra charges known as Miscellaneous charges (Misc Charges).They are same as processing fees. We do not hide any thing from the parents or the students.These charges are not our commision or company development charges.These charges are for Student's documentation and Visa process.
MISC CHARGES : INVITATION LETTER,ADMISSION LETTER,APOSTLE,DOCUMENTATION TRANSLATION,INVITATION FROM MINISTRY,ACCOMMODATION LETTER,TRAVEL INSURANCE,MFA REGISTRATION,MHRD REGISTRATION,MCI/USMLE COACHING,AIRPORT PICK UP(MOST PLACES),CARE TAKING,TRAVEL ASSISTANCE,FOREX ASSISTANCE,FINANCE ASSISTANCE,MINISTRY APPROVAL FROM THE COUNTRY YOU ARE GOING,PRE-DEPARTURE ASSISTANCE.
Misc charge includes everything from providing you offer/Admission letter till dropping you at the hostel.
Beautiful Infrastructure of Our University
Student life and Hostel Life In AIMU
There are separate mess for boys and girls.The students are provided with breakfast, lunch, evening refreshment & dinner. The hostel committee coordinates with the mess committee for smooth running of the mess.The mess committee monitors the quality, taste and hygiene of the food served in the mess.They also interact with the mess vendor to provide him with the feedback of students and to introduce possible changes in the menu. Review and inspection of the food quality is carried out at regular intervals for Indian students. AIMU have Indian cooks to sever Indian foods.
Facilities :
Mess,Canteen and hot water through geyser in winter.
Doctor is appointed for free check-up every day in the evening and college provides 24×7 medical facility.
Guest rooms for parents/guardians / guest persons at reasonable charges.
24×7 guard security system.